A few nights ago, I finished reading Julie Powell's
Julie & Julia
.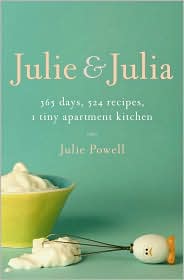 (Image courtesy of
www.barnesandnoble.com
)
I was intrigued by this book because it springs from a blog (
the Julie/Julia Project
) that existed before blogs were all the rage. Although I was not one of Julie's "bleaders", I am inspired by the idea and the way in which she captured the hearts of so many readers. If only such a unique, eye catching idea would enter my brain! Unfortunately, I can only record random thoughts with no real direction or purpose. Nonetheless, I like that blogs are submitted into cyberspace, just waiting for someone to reach out and connect with something written there. It's such a strange opportunity - sharing things with who knows who. Anyway, back to the book. Mostly, I like that it encourages one to believe in the possibility of drastically changing one's own life. Julie was 29 when she began this - she was just an unhappy secretary. By starting this journey (cooking through Julia Child's
Mastering the Art of French Cooking
, writing a daily blog about her experiences, etc.), Julie Powell went from lowly secretary to full time writer. Julia Child herself didn't even attend culinary school until she was 36. I don't know. It's a nice thing to keep in mind. Don't resign yourself to having an unhappy life. (Is it bad that I didn't mention the food? This definitely proves that I'm a picky eater, as all the food described sounds, well, gross).
The book really makes me want to see the movie adaptation, which stars Amy Adams as Julie and Meryl Streep as Julia. It hits theaters August 7, 2009 and I can't wait.